New Concept for Lunch
October 28, 2016
This season my current employer, Staatstheater Nürnberg, decided to try a new concept out. They seem to try one out every season. 14/15 it was the concert for school kids – very successful, 15/16 the open house even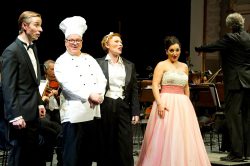 t, Theaterfest -very popular, and this season, a matinee. Bel canto-matinee. Three Sunday's at 11 o'clock. With the philharmonic orchestra, conducted by Guido Johannes Rumstadt, and soloists from the ensemble.
The main person on stage is Kammerschauspieler Pius Maria Cüppers, in the role as Rossini's chef. It'll all be very easy going and funny, I'm sure.
I'll be singing arias and ensembles by Rossini and Donizetti. A great opportunity for me to broaden my repertoire.