Love and Cabal
March 9, 2018
We have now got through the first two days of Endproben for die Soldaten (the Soldiers).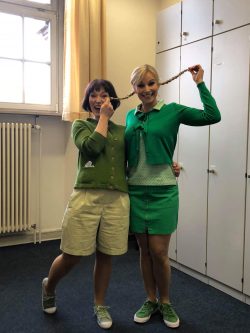 Yesterday piano dress and today orchestra rehearsal 1 and 2. First act. We continue with the later acts after the weekend. To say that the orchestra sounds quite different than the piano score would be an understatement. It's well orchestrated though, mostly quite singer friendly. These rehearsals are experiences, indeed. I'm looking forward to next week! The last before our premiere!
I'm taking the weekend off Zimmermann's music and turning the clock back a good 200 years.
This weekend I have the fortune of singing Mozart and Handel in Ansbach, a town not far from Nürnberg. The theatre in Ansbach is currently giving Schiller's play Kabale und Liebe and in addition to a performance a sermon is held in a nearby church, St. Gumbertus, reflecting on the piece. Together with the organist C.F. Meyer, I have chosen a programme suitable for the play. I have allowed myself to add one beautiful Rangström-piece the programme, even if it stands out a bit, maybe. Like Grieg, Rangström printed german singable translations for his songs. One of which I aim to use on Sunday – it feels rather odd to sing a Swedish song in german though.
The Wiegleb-Organ in St. Gumbertus (1739, renovated 2007) is the biggest baroque organ in Franconia and has a bright, transparent but full timbre. I'm looking forward to make music with such a special instrument!