"Der Augenblick ist mein"
March 20, 2017
Replacing my colleague Maria van Eldik, who had to cancel, I've gained many experiences working with the piece Sonne, Mond und Sterne by Peter Schindler.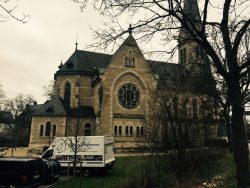 It is always nice when a colleague recommends you for a concert. More than the honour, one gets access to someone else's contacts, which is invaluable.
Due to the cooperation with the Vogtland Philharmonie I got to learn about Vogtland; a region connecting Bavaria, Saxony, Thuringia and Bohemia (the latter in the Czech Republic). The rehearsal was held in Reichenbach, a cute small town, full of one way streets, to which I hadn't been before either. While driving my car pool – car, I learned more about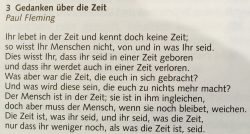 the actual distances in Franconia and this part of Germany. I prefer train but the travel times didn't allow it.
Thankfully the adorable town of execution, Forchheim, is very easily accessible from Nuremberg. AND I did know Forchheim from before.
The piece, which is a more than 2 Hours long choir cantata, from 2011, consists of 39 different German texts from different centuries but to their character are timeless and generally calling for mindfulness – the moment is ours not the past, nor the future. "Der Augenblick ist mein"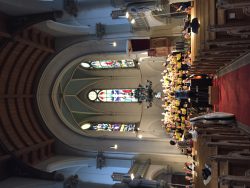 It was my first encounter with the composer Peter Schindler's music. This cantata is so to speak very easily accessible. A dream come true for any choir conductor fighting to get his or hers choir members to move and smile in concert. For the soloists the approach is rather Kurt Weill than J.S. Bach so to speak. Meaning – the text and the character is everything. I had a lot of fun with my colleagues; baritone Thomas Trolldenier and the conductor Stephanie Spörl.