Das A
May 27, 2019
I have to tell you about a fantastic project, "Das A", that I learned about after the concert of Beethoven's 9th in Jerevan last week.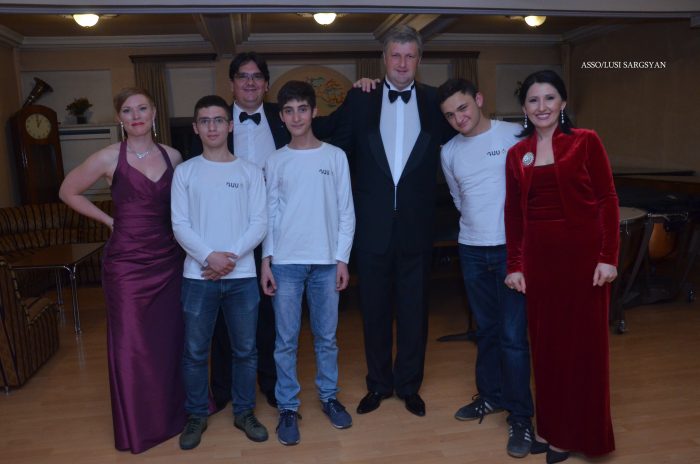 "The young men in white shirts are our volunteers. We are now implementing a project with high schools called "DasA". Maestro Sergey Smbatyan along with the musicians of the orchestra visit schools having meetings about classical music, and then the pupils visit classical music concerts. And those young men are the volunteers of that project. Here you can see some information about that project: https://www.rhinegold.co.uk/classical_music/classical-music-for-teenagers-in-armenia/ "

Ani Abovyan, Project and Recording Manager, Armenian State Symphony Orchestra
Over a bite after the concert, conductor Sergey Smbatyan, showed "Das A" to me. Except "only" being a project where the musicians visit the schools followed by the pupils visiting the concerts, they are also developing a study material. As I understood it it's a book for the music classes (obviously they still use books in the schools in Armenia) combined with an app. When you use these two together the app plays you the music of a certain composer when you point your phone to his or hers picture!
The Armenian State Symphony Orchestra was founded as an Youth Symphony Orchestra by an 18 years old Sergey Smbatyan and as the members have grown up as individuals, as an orchestra and as musicians the orchestra has become one of the most important in the country. Their engagement for spreading classical music is truly inspiring. I wish them a lot of success in their work!