Carmen Premiere Coming Up
June 1, 2018
Many have the conversations been this spring, about what work one takes on, under what conditions and why.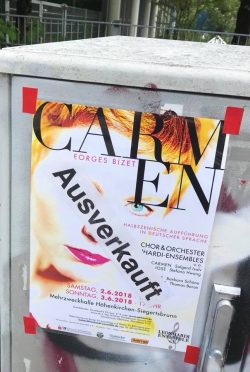 I squeezed this Carmen-production into my schedule for two reasons; to get a possibility to return to
a wonderful role and, more, for pure exercise, endurance training, after the many small to middle sized parts that I've been singing in the theaters the past few years.
However this production has surprised m
e greatly – not only because of the very fine colleagues I've learned to know or the director
Barbara Schöne
's interesting work – but because of a return to the very heart and meaning of art. This production, with it's small means, has engaged so many people. Practically but also emotionally – this production has been talked about and discussed, has taken people out of their comfort zones, made worlds meet, challenged people to grow and turned into a huge ensemble effort.
I wrote on Twitter about an entire village creating opera, and it's true, few in Höhenkirchen-Siegertsbrunn are not taking part in some way. This production has made me remember why I turned to art and music in the first place. There is nothing fancy about it, no big names, no huge budget or historical location – but yet it carries the magic of art: when a very normal gymnasium, with craftsmanship, hard work and inspiration, turns into a theatre and a place for storytelling and question posing.
I am so happy the shows are sold out. It is the important reward for everyone involved.
I, myself, have got a real challenge ahead; to sing Carmen two nights in a row after three intense weeks of rehearsals. But I trust that I get carried by this interesting and fun production and the
wonderful energy on stage.
Toi Toi Toi to everyone involved!
Some articles written about the project (in German)